Kent family devastated by German Shepherd 'poisoning'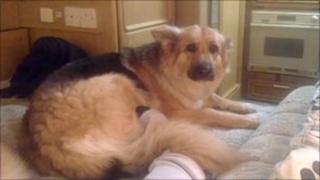 A Kent family say they are "devastated" after having to put down three pet dogs after they ate bread suspected of being contaminated with anti-freeze.
Graeme Wilmore said his German Shepherds suffered renal failure after eating the bread which he believes was thrown into his garden, near Deal.
"It was awful," Mr Wilmore, of Jubilee Road, Worth said. "We wouldn't ever have thought anyone could be so cruel."
Kent Police said officers were investigating the alleged poisoning.
Mr Wilmore said the youngest dog showed the first sign of illness when her back legs became weak.
"The only thing I can liken it to is looking a little bit drunk." he said.
The two other dogs started showing similar symptoms the next day and all three were taken to White Mill Veterinary Centre in Sandwich.
Blood tests showed the animals were suffering kidney failure.
"They were obviously distressed and all three were going to go rapidly downhill so we had to take the decision to have them put down," said Mr Wilmore.
"We couldn't let them suffer like that."
Vet, Patricia Cornwall, said she realised the dogs were suffering from poisoning as soon as she got the results of blood tests.
She inspected the bread, which had blue liquid in it, and immediately suspected antifreeze.
"I am exasperated - it is a wicked thing to do," she said.
"We were beside ourselves with upset because we felt so helpless. We could do very little."
Mr Wilmore appealed to anyone who has information about the incident to contact police.
"We would like to know who did it to prevent anything happening to anybody else's dogs," he said.
"It baffles us why anyone would put poisoned bread into our garden."