Winston Churchill painting The Beach at Walmer auctioned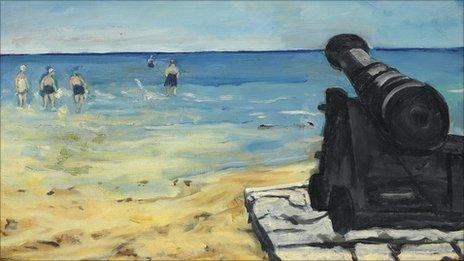 A painting of a Kent beach by Sir Winston Churchill has been sold at auction for £313,250.
The Beach at Walmer, which was painted in about 1938 and depicts a beach near Dover, was auctioned at Christie's sale of 20th Century British and Irish Art.
The view in the painting, an oil on canvas, is dominated by one of the ancient cannons that still guard the seaward approaches to Walmer Castle.
The work was a gift to General Ismay, his chief military adviser during WWII.
The year after becoming wartime prime minister, Churchill was appointed Lord Warden of the Cinque Ports and Constable of Dover Castle in 1941.
He and his family enjoyed bathing in the sea and the beach was one of his favourite subjects to paint.
Although it is said that Churchill loathed to give away any of his art, family legend suggests he had always promised Ismay a painting.
While visiting Churchill's studio he chose The Beach at Walmer because, to him, it represented Churchill: standing guard on the coast while England played.
Related Internet Links
The BBC is not responsible for the content of external sites.