Kent smugglers trail is launched in Hawkhurst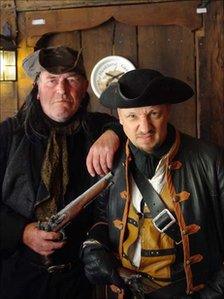 A new trail has been launched in Hawkhurst to mark the escapades of a notorious gang of Kent smugglers.
The trail marks the days when "Hawkhurst ruled the Weald" as the gang controlled much of the illicit trade from Deal to Poole in Dorset.
Featuring more than 20 local "smuggling" hostelries, the trail runs from Hawkhurst, Goudhurst and Cranbrook to the Sussex coast at Hastings and Rye.
Commemorative plaques and information boards have been put along the trail.
Alec Travers, chairman of the Hawkhurst Community Partnership, said: "We we have identified a number of places - often well-known hostelries - frequented by the smugglers, both in the Weald and down to the coast in East Sussex.
"The Hawkhurst Gang were, and still are, one of the most famous smuggling gangs, and we believe that this project will really benefit local businesses as our residents and visitors explore the smugglers' old haunts."
The gang hatched their plans for smuggling of tea, brandy, rum and coffee from France and the Channel Islands in their local pubs.
Gang leader Arthur Gray was captured, tried at the Old Bailey for smuggling at Lydd and executed in 1748.
Thomas Kingsmill, from Goudhurst, took over as leader, however, the gang was defeated by the Goudhurst Band of Militia and their influence in the area was greatly reduced.
Related Internet Links
The BBC is not responsible for the content of external sites.