Dunkirk evacuation 'little ships' gather at Ramsgate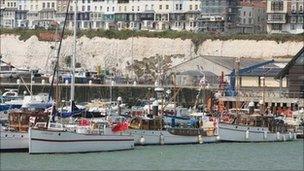 Up to 30 "little ships" that took part in the Dunkirk evacuation during World War II have begun gathering off Kent for their annual commemoration.
The craft have started arriving at Ramsgate harbour to mark the rescue of 380,000 British and French from the beaches of northern France.
The vessels will take part in a wreath laying ceremony off-shore on Sunday, following a remembrance service.
Last year about 64 ships headed to France to mark the 70th anniversary.
The original evacuation, code name Operation Dynamo, took place between 26 May and 4 June 1940.
It involved 900 naval and civilian craft, including fishing boats, pleasure crafts, paddle steamers and lifeboats, which were sent across the Channel under RAF protection.
Historians say the evacuation boosted British morale at a crucial point of the war.
Related Internet Links
The BBC is not responsible for the content of external sites.