World custard pie championship takes place in Kent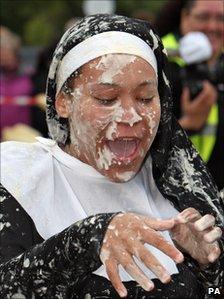 The world custard pie championship has been taking place in a west Kent village, with teams in fancy dress battling it out for the title.
The event in Coxheath, near Maidstone, is in its 44th year, with teams being awarded maximum points for throwing a pie into their opponents' faces.
The championships were started in 1967 by Councillor Mike FitzGerald to help raise funds to build a village hall.
The idea for the charity event came from a Charlie Chaplin comedy.
Les Mitchell, one of the organisers of this year's event, said the pies were made using a secret recipe, but basically contained "harmless flour and water" rather than custard.
He described the atmosphere of the event as "utterly hilarious" and "controlled madness".
The winners of the competition were St Simon's Stock Crusaders, a local team.
Related Internet Links
The BBC is not responsible for the content of external sites.