Pfizer job losses 'among 13,000 at risk in east Kent'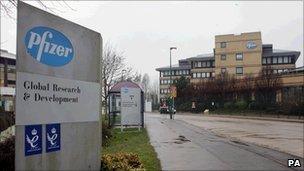 More than 13,000 jobs could be lost across east Kent by 2018, according to an assessment of the area's economy.
The estimate comes in a report outlining hopes for future growth after Pfizer closes its Sandwich site.
Consultants believe the drug company's exit, the decommissioning of Dungeness nuclear power station, and public sector cuts could affect 13,700 jobs.
Authors of the document have called for a "bolder approach from government" to help stimulate future growth.
The second report of the Sandwich Economic Development Task Force, set up after Pfizer announced its plans, says ministers have so far failed to support its proposals for investment.
One of these was to designate the area as a research, innovation and technology zone, bringing tax and planning breaks.
Transport connections 'vital'
The task force also wanted to improve transport links, including high-speed trains, through a bid to the government's £1.4bn Regional Growth Fund, but was unsuccessful.
Task force chairman and Kent County Council leader Paul Carter said: "We've made good progress but there is still much to do for Pfizer staff, contractors and the local community.
"The task force continues to do all it can to support new business and employment on the Pfizer site and to improve the transport connections which will be vital in marketing it."
Pfizer announced the closure of the Sandwich research and development site in February, putting 2,400 jobs at risk.
These are included in the economic impact assessment, commissioned by Kent County Council. Its wider job loss estimates represent about 9% of east Kent's 150,000-strong workforce.
Pfizer is in talks with contract research organisations in a bid to save some positions and is arranging careers fairs, a business opportunities day, and out-placement services for its employees.
Jobcentre Plus is also on the site providing a rapid response service for workers.
CB Richard Ellis have been appointed as selling agents for the site and it is hoped the British Open Golf tournament, held at Royal St George's in July, will further promote the area as an investment option.
Related Internet Links
The BBC is not responsible for the content of external sites.