Turner Contemporary has 100,000 visitors in six weeks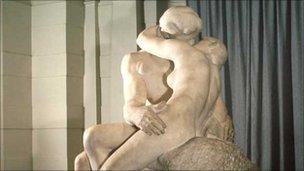 Kent's newest art gallery has had 100,000 visitors since it opened six weeks ago.
Turner Contemporary has now met two thirds of its annual visitor forecast of 150,000, gallery director Victoria Pomery said.
She said the Margate gallery had seen a "fantastic opening month", the town was "buzzing" and the centre was looking forward to many more visitors.
Statistics showed 24% of visitors were from Margate and 24% from Thanet.
Figures also said 80% of visitors were very likely to return to the gallery and 77% would definitely recommend a visit to their friends of family.
The Turner Contemporary is also expecting a boost to its visitor numbers later this year with the arrival of Auguste Rodin's The Kiss, which will be on loan from the Tate collection.
The life-size marble sculpture of the embracing couple, which is worth £10m, will go on show in the Sunley Gallery between 4 October and 2 September 2012.
Related Internet Links
The BBC is not responsible for the content of external sites.