Kent's woodlands could lose the nightingale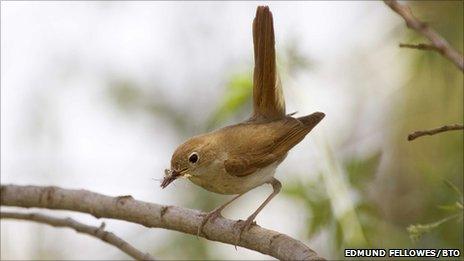 A study has warned that the nightingale could disappear from Kent's woodlands within 30 years.
According to the British Trust for Ornithology (BTO), more than half of breeding nightingales in the UK have disappeared since 1998.
Blean Woods nature reserve near Canterbury is currently home to about 35 pairs of nightingales.
This figure is marginally higher than 2010 but considerably lower than in the 1980s when there would have been 40-60.
Reserve site manager Michael Walter believed the drop in numbers could be due to loss of habitat in the UK and conditions in their wintering quarters in Africa.
"About four to eight years after an area has been coppiced nightingales really home in on that area," he said. "Nationally there's far less woodland being coppiced so understandably nightingales are declining."
The number of nightingales is higher in the south east than anywhere else in the country. In 1999 more than a quarter of the UK's nightingales were found in Kent.
This is largely due to the county's warmer climate and the fact that the tradition of coppicing still remains whereas it has been abandoned in most other areas of the UK.
However, even on the reserve at Blean where coppicing takes place every year and conditions for the birds remain the same with habitats available, the numbers are still decreasing.
Mr Walter said that there was little that can be done in the UK to attract nightingales.
"More needs to be done to safeguard their wintering quarters in Africa so they can survive the winter and return to the UK to breed.
"The nightingale song is a beautiful song," he added. "It's one that you can hear in the depth of night, in the pitch dark. No other sound can be heard then the nightingale pipes up - it's absolutely gorgeous."
The survey findings mean the nightingale will be upgraded to red status, signifying the highest possible degree of conservation concern.
The BTO has launched an appeal to fund a new survey and further research into the decline of the nightingale, while there are still sufficient birds to study.
Related Internet Links
The BBC is not responsible for the content of external sites.