London 2012 legacy may be short-lived, research claims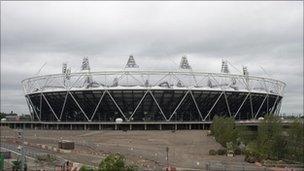 Increased public participation in sport after the London Olympics could be short-lived, or even go into reverse, according to new research.
The University of Kent report based its caution on figures from Greece, where exercise levels saw only a temporary rise after the 2004 Athens Games.
London 2012 is, however, better placed than any other Olympic Games to deliver on its promise, the report says.
A government spokesman said it was "completely committed" to the legacy.
Dr Sakis Pappous, senior lecturer at the university's Centre for Sports Studies, said it was a "big assumption" that London 2012 would "automatically increase participation".
Plans for an increase in physical activity levels of at least two million people after the Games were "extremely ambitious", he added.
His research into the Greek legacy, based on three separate surveys, showed 16% of those who participated exercised regularly following the 2004 event - up from 10% in 2003.
However, the level had dropped to just 3% by 2009 - even lower than the period before the Games.
His research follows a report by Conservative think tank, the Centre for Social Justice, which said the legacy pledge would be a "highly effective sales pitch that was never fully realised".
In 2007, the London East Research Institute also looked at the Athens Games, as well as Sydney and Atlanta, and found only short-term impacts.
If London 2012's legacy is to avoid the same fate, Dr Pappous said, it had to follow through on its "pioneer" promise to make increased sporting participation its top priority.
A spokesman for the Department for Culture, Media and Sport, admitted this would not be easy, but added: "The government and Olympic organisers are completely committed to delivering a lasting sporting legacy from the 2012 Games.
"We are investing hundreds of millions of pounds to create better facilities and give people more opportunities to play sport."
Related Internet Links
The BBC is not responsible for the content of external sites.