Motor cruisers collide in English Channel near Dover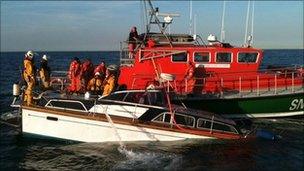 Two motor cruisers carrying a total of six people have crashed into each other in the English Channel.
The Maid of Unst, carrying two people, and Sabreur, with a crew of four, collided at 1800 GMT on Wednesday.
Nobody was injured in the crash, which happened 11 miles (18km) from Dover Harbour in Kent.
The incident was attended by Dover and Walmer RNLI lifeboats and a rescue helicopter.
The French Coastguard also sent lifeboats from Calais and Boulogne to the scene, in the north east lane of the Dover Strait.
Both vessels were helped back to Dover by lifeboat.
Sarah Bray, Dover Coastguard's watch manager, said the six crew were "safe and well".
The RNLI said lifeboats had been called to reports of one vessel sinking and its occupants taking to life rafts.
The sinking vessel had a broken hull and the other motorboat had damage to its stern and steering equipment.
Three people were airlifted from the sinking vessel but one man stayed on board to try to keep it afloat. He was taken aboard the Dover lifeboat as the situation deteriorated.
Lifeboat crew members boarded the other vessel to check the two occupants for injuries before it was escorted back to Kent.
Related Internet Links
The BBC is not responsible for the content of external sites.