Blood donor appeal for Folkestone transplant girl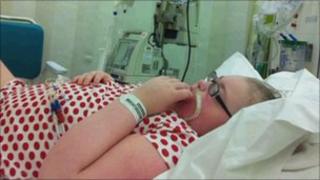 An 11-year-old girl with a rare condition of the immune system thought to affect only five people in the UK is preparing for a bone marrow transplant and needs blood donors.
Melanie Cottle's family in Folkestone, Kent, are hoping people with the blood type B positive will come forward.
Chediak Higashi Syndrome is so rare her doctor has not seen it for 20 years.
The William Harvey Hospital in Ashford has estimated that at least four donors will be needed to help.
'Life is torture'
Melanie was diagnosed at Christmas and is no longer able to walk.
She has had six months of chemotherapy to treat her illness, which is an inherited, genetic condition.
Melanie's father, Paul Cottle, said: "If she can get this blood then we've got a bigger chance of making her pull through it. We've got to give her every single chance we can."
He said: "Life is torture, especially for Melanie. She's going through so much pain and suffering and hasn't really got a clue what's going on.
"We give her all encouragement and try to talk about the future and nice things. We try to make wishes come true."
Biomedical scientist Susan Mitchell said: "This is the first time in 20 years I've seen a patient with this condition. That is how rare it is. Nobody here had ever seen a case."
She said the blood would be needed to help Melanie after the bone marrow transplant.
Melanie was also having blood transfusions before the transplant as well, she added.
People who would like to donate blood can email save.mel@hotmail.co.uk or text 07971 366062 with their name and the message "I'm happy to help, I'm B+".