Ashford church's future is secured by funding award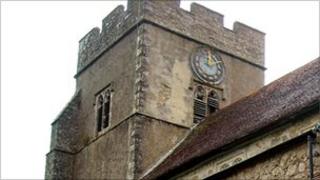 The future of a 700-year-old church has been secured after it was awarded a grant for crucial roof repairs.
St Mary the Virgin Church in Great Chart, near Ashford is a Grade I listed building, parts of which date back to the 14th Century.
Over the years the roof has deteriorated which has led to rotting beams and cracked and crumbling stonework inside the church.
The English Heritage grant will help fund essential repair works needed.
The architect and builders have already been on the roof to investigate, taking off tiles which have not been lifted for 100 years.
Inside the roof they discovered a foot depth of earth and rubble, birds nests and bats nesting inside.
'First class venue'
The church is the second-largest church building and one of the largest public indoor spaces in the Borough of Ashford.
The Reverend Tim Wilson said: "The church also has the potential to be a first-class venue for wider arts and social events, but this will require a reordering of the interior and improved facilities.
"This is all part of the longer-term plan, but first the roof needs fixing. We are delighted that English Heritage [and]Heritage Lottery Funding has awarded us this grant so that the work may start."
The grant of £72,000 takes care of only part of the total cost of the project, which is more than £230,000.
The church fundraising committee hopes that the remaining money will be raised from other grants and donations through its Raise the Roof campaign.