Kent family of beheaded Surjit Kaur get 'further help'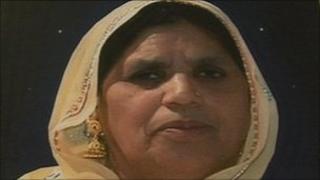 The government will look at what further help it can give to the Kent family of a woman who was beheaded in India, the prime minister has said.
David Cameron was speaking during Prime Minister's Questions after Gillingham and Rainham Conservative MP Rehman Chishti raised the case.
Mother-of-three Surjit Kaur, 67, of Chatham, was killed on a visit to the Punjab region of India this year.
Two men are awaiting trial in India on kidnap and murder charges.
'Further assistance'
Mr Chishti said: "Can I ask the British government to urge the India authorities to carry out a full, transparent, thorough investigation and bring to account those responsible for this horrendous murder so that my constituent and his family can get some justice for their mother?"
Mr Cameron replied: "The Foreign Office has been providing the family with consular support as he knows.
"They will arrange to meet with my right honourable friend and the family to see what further assistance that we can give.
"However, I have to say to him responsibility for investigating crime committed overseas has to rest with the police and the judicial authorities in that country.
"We cannot interfere in the processes but I take to heart the points that he makes."
Mrs Kaur's son, Baljinder Singh, said: "I'm just numb, absolutely numb. I just couldn't believe it. We still don't really believe it now. She was always there for us. We always turned to her.
"It's just terrible for us really. We've got no-one to give us advice."
Commenting on the meeting between the family, MP and Foreign Office, he said he "just wanted help and support".
He said: "I've never been in this situation before, I'd like to get the best help I can to get justice."
'Distant relatives'
Mrs Kaur went missing in India while she was on holiday at the end of March.
Police found the mother-of-three's body 800 miles away from where she was staying, before anyone could fly out to look for her.
Her family was notified seven weeks after the start of her trip that Mrs Kaur had gone missing.
Her body was found five days later as they were trying to arrange emergency visas to travel to India.
Two men believed to be distant relatives led police to her body and are awaiting trial in India.