Kent school transport fee plan set to be approved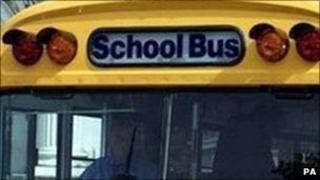 Plans to scrap free transport for children attending faith and grammar schools in Kent look set to get the go ahead.
Kent County Council (KCC) wants to introduce a fee to help towards the cost of transport from September 2012.
A consultation by the authority found 88% of people were against the idea which will save the council £2.5m.
KCC said as a result of the consultation concessions would be made for people on low incomes.
Mother-of-three Emily Shepherd, from Kingsdown, near Dover, has two children at a grammar school with another due to start in 2012.
'Restricts choice'
She said it was not fair for KCC to suddenly change the system.
"You are not telling me this is a consultation when 88% of people do not agree with it and they say we are going to bring it in anyway.
"I think it is badly thought out," she said.
Rev Nigel Genders, director of education for Canterbury Diocese, said he was disappointed the council was going ahead despite the results of the consultation.
He said: "It restricts choice and has the greatest impact on parents on the middle to low income bracket and that means parents have far less choice."
Appeal panel
Sarah Hohler, KCC cabinet member for education said: "We have analysed all of the responses.
"I recognise that some have said they would like us to continue to keep providing a free service to all, but we are simply not able to do this."
She said concessions for low income families and an appeal panel for people suffering hardship because of the changes had been brought in as a result of the consultation.
A Freedom Bus Pass where children can travel for free on buses for £100 a year had already been introduced, she said.
The move has been welcomed by the National Secular Society which said the current system was discriminatory.
The KCC cabinet will make a final decision on the proposals on Monday.