Pfizer 'doing too little' as Kent site closes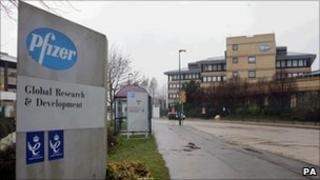 Pfizer has been accused of not doing enough to keep workers and skills in Kent after it announced in February its base in Sandwich would close.
A scientist employed at the site spoke anonymously to the BBC and said the drugs firm and politicians were doing "too little too late".
Laura Sandys, South Thanet Tory MP, is on the task force set up to create a post-Pfizer economy in east Kent.
She said Pfizer was exiting "too quickly". Pfizer declined to comment.
Pfizer employs 2,400 workers at the site.
'Timing problem'
The scientist said: "They are slow. They are far too slow. People have already accepted offers abroad and everybody knows that it's over.
"I feel that somebody needs to step forward and rattle a few cages so that things get done and people can move forward."
Ms Sandys said the task force had met private sector investors on Thursday.
She said: "What we've got is a time problem and that is, as I said at the time, Pfizer is exiting or creating redundancies too quickly for us to be able to secure that finance and that investment from private sector companies.
"But I assure you that we are working extremely hard to secure those companies into the local economy as soon as we can."
She said the task force, which is made up of politicians, businesses and trade organisations, would be putting in bids for an enterprise zone - a government scheme to promote local economies - and also bidding for money from the regional growth fund.
Earlier this week the site was put on the market and renamed "Discovery Park" in the hope that the site would still be used for research.
Pfizer has said it is in talks with contract research organisations in a bid to save some positions and is arranging careers fairs, a business opportunities day and out-placement services for its employees.
Jobcentre Plus is also on the site providing a rapid response service for workers.