Black widow spider found at Chatham Dockyard 'pregnant'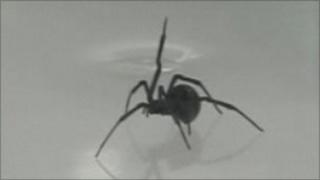 A black widow spider discovered in Kent by workers importing cars from the USA could be carrying up to 700 eggs.
The potentially deadly spider was found in a container that arrived at Chatham Dockyard earlier this month.
The spider, whose venom is 15 times the strength of rattlesnake venom, was handed to Maidstone vet Mark Rowland in a takeaway carton.
He said she had a pear-shaped egg sac which could hold up to 700 eggs. The spider has been taken to London Zoo.
The arachnid was found by a dock-worker unloading cars from a container.
Mr Rowland, of the Trinity Vet Centre, said he was alerted after spotting "a funnel-shaped web".
Black widow spiders, which are not often found in the UK, are among the most poisonous in the world, although their bites are rarely fatal because of the small amount of venom released.
Only the females are venomous and are called black widows because they eat their male partners after mating.