Olympics security 'top priority' for Channel police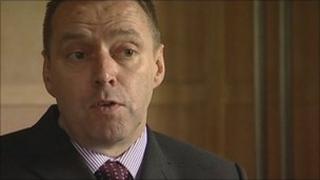 Security at the Channel Tunnel and Kent ports during the London 2012 Olympics has been identified as the top priority for a cross-Channel police group.
Kent Police Supt Martin Very said ports and Channel Tunnel trains were expected to be running at full capacity.
"It is an opportunity for crime gangs to use this increase in population to sell their illegal wares more effectively and efficiently," he said.
Officers from France, Belgium and Holland discussed the Games in Kent.
Police from the Cross Channel Intelligence Community (CCIC) met on Thursday and Friday at the Mercure Hythe Imperial Hotel.
As well as people trafficking and counter-terrorism, CCIC targets the supply of illegal drugs and illegal immigration and cross-border crime on passenger and freight transport.
It will play a major role in security for the London 2012 Olympics.
National teams and a large number of spectators are expected to travel to London from the European mainland via Kent.
Supt Very said the Games would give crime gangs increased opportunities to move illegal goods across the border.
Police on each side of the Channel would increase their exchange of intelligence, as well as deploying more officers at borders and approach roads, he added.
"We will react to this issue and we will be effective. We will keep these organised crime gangs on the back foot."