Tonbridge crowds cheer Princess of Wales's Royal Regiment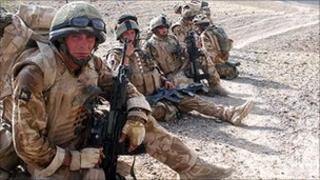 Crowds of people turned out to cheer on soldiers who recently served in Afghanistan and carried out duties at the royal wedding.
The 2nd Battalion The Princess of Wales's Royal Regiment paraded through Tonbridge, Kent, at 1400 BST on Sunday.
Spectators watched as the troops made their way through the town accompanied by Kent air and army cadets.
The regiment has the freedom of the borough, which allows it to march with fixed bayonets, drums and colours.
The Princess of Wales is the infantry regiment for Surrey, Kent, Sussex, Middlesex and Hampshire.