Youngsters' art work gets Turner Contemporary display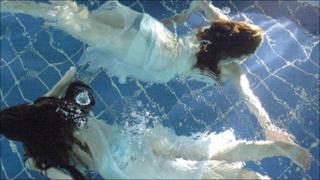 Five young people have won the right to have their artwork placed alongside masterpieces at Kent's newest gallery.
The pieces by the group, which includes university students and school pupils, will go on show at the Turner Contemporary from 17 September.
They won the Page Turner competition, organised by the Turner Contemporary, University for the Creative Arts (UCA) and Aimhigher Kent and Medway.
Gill Wilson, of UCA, said the quality of entries was high.
The contest was open to schoolchildren from the age of seven and university students.
Faye Nicholls and Heidi Kemp of Canterbury College, Oleta Williams of UCA Rochester and Erin Williams and Charlie Perkins, from Highworth Grammar School were overall winners.
'Great creative talent'
Their work will be included in the Nothing in the World but Youth exhibition between 17 September and 8 January.
Karen Eslea, head of learning at Turner Contemporary, said: "The fantastic response from young artists and writers from across Kent speaks volumes.
"Art can transform lives, and I am very proud that young people from across the county have taken this opportunity to show their enthusiasm and great creative talent."
The gallery in Margate has been popular since it opened in April.
At the beginning of June the Turner Contemporary announced it had received 100,000 visitors, two thirds of its annual visitor forecast, in a six-week period.
The Turner Contemporary is also expecting a boost to its visitor numbers later this year with the arrival of Auguste Rodin's The Kiss, which will be on loan from the Tate collection.
The life-size marble sculpture of the embracing couple, which is worth £10m, will go on show in the Sunley Gallery between 4 October and 2 September 2012.