Thames Gateway site close to beginning development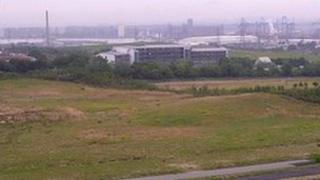 Work on a major housing development in the Thames Gateway is close to starting after being on hold for years.
The Eastern Quarry site which stretches from Bluewater to Ebbsfleet Station in North Kent is owned by Land Securities.
Since the mid 1990s, 6,000 homes have been planned for the site but this was put on hold because of the recession.
A spokesman for Land Securities said: "We are now seeking a partner to help take forward the long-term development opportunity at Eastern Quarry."
As well as new homes, a whole community was planned for Eastern Quarry including schools, health centres, businesses and leisure facilities.
'Natural next step'
Nigel Jones, head teacher of nearby Swan Valley School, said: "I think it's exciting for the communities.
"For my students, when they are 30 or 35, they will have more opportunities for places to live in a thriving community which is building on the active communities that already surround the school."
On the site, some of the earthworks have already been completed together with some of the water, sewage and other utility systems and a few roads have been laid.
Land Securities has been writing to parish councils and other interested groups saying that it is now looking for a developer to take on the site.
The company also said that this was the "natural next step" and that it was committed to the site's potential.