Managers buy troubled Canterbury timber firm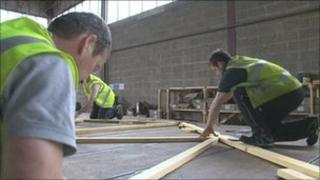 A group of workers in Kent have carried out a management buyout of their timber firm to save jobs.
Roofing company Donaldson and McConnell had four branches across the UK.
Its employees in Hersden near Canterbury decided to buy their branch, calling the new company Harmony Timber Solutions, and securing twelve jobs.
Manager Norman Gore said: "It was very seat-of-the-pants. We had a few sleepless nights but things are beginning to settle down now."
He added: "We weren't aware of any problems and then suddenly we were advised that the parent company went into administration."
Investor Garrett Dempsey said: "I was aiming to set up in the South East of the UK, this is where the market is at the moment, and through industry sources I heard there was a possibility of a management buyout happening in the area of Canterbury."
Buyout expert Campbell McDonald of Baxi Partnership said: "All the evidence suggests that if you have a stake in your own organisation then your motivation to make that organisation a success just sky-rockets."
Donaldson and McConnell employed 114 people at sites in Grangemouth in Scotland; Craigavon in Northern Ireland; West Bromwich in the West Midlands and Canterbury in Kent.
The group, which was formed in 1991, specialised in the design, supply and erection of complex timber and glue-laminated roof structures.