Polytunnels allowed to stay on Hugh Lowe Farms land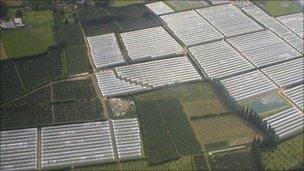 A farm has won its battle to keep polytunnels on 400 acres of Kent countryside.
Hugh Lowe Farms, at Mereworth near Tonbridge, already has the tunnels and uses them to grow strawberries.
On Tuesday Tonbridge and Malling Borough Council granted retrospective planning permission to the farm, allowing the tunnels to stay.
Local campaigners had opposed the plans saying they were a blot on the landscape and damaging the environment.
Farmer Marion Reagan said: "It's a great relief, not just for me but for the team of people here.
"The council had a very objective debate, they had a good report from their planning officer which went through all the issues."
Local opinion on the polytunnels was divided, with 191 letters of objection sent in from the public but also 147 letters of support.
Those who did oppose the plans claim that the polytunnels stop rain from reaching the ground, meaning crops have to be watered, taking it unnecessarily from the main supply.
They also said this type of farming can also create flooding elsewhere.
Mrs Reagan said: "We had no objection from the Environment Agency, no objection from Natural England and no objection from the Kent Wildlife Trust.
"The people who do know the detail of the application and the science behind it - they did not object."
Related Internet Links
The BBC is not responsible for the content of external sites.