Kent parents' bid to fly home ill son Richard Plummer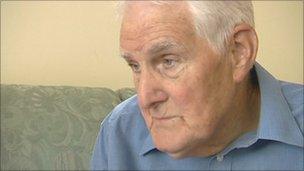 The parents of a Kent man seriously injured in a motorbike accident in Indonesia face a bill of tens of thousands of pounds to fly him home.
Richard Plummer, 32, is in a coma in hospital following the crash two weeks ago. He did not have travel insurance.
His parents, June and Eric Plummer, from Maidstone, are considering selling their home after being told it will cost £98,000 to bring him home.
Mrs Plummer said: "It's the most awful nightmare. I just want Richard home."
The cost relates to the expense of transporting Richard home on a plane equipped with specialist medical equipment.
Mr Plummer, 75, who has already spent £22,000 on medical bills, said: "I would say to anyone going abroad to get travel insurance whatever the cost.
"This situation is the worst nightmare scenario I can possibly think of."
Malcolm Tarling, of the Association of British Insurers, said: "As this case highlights, if you fall seriously ill abroad, medical bills can be absolutely horrendous.
"It's this risk alone that makes travel insurance essential for anyone travelling overseas."