Grain villagers meet over liquid-gas depot fears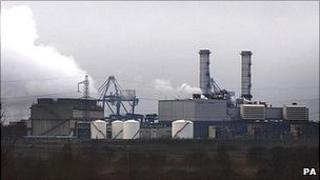 Villagers living in the shadow of a giant gas terminal in Kent are attending a public meeting to discuss safety concerns.
People on the Isle of Grain fear the latest Medway Council emergency plan for the area is inadequate.
They say it does not give enough detail about potential hazards at the liquefied natural-gas (LNG) depot, which has expanded in recent years.
Four giant gas storage tanks have been added since the 2008 plan was produced.
The residents are meeting to discuss Medway Council's latest plan, which they say does little to inform them how they would be protected in the event of a major disaster at the terminal.
The site - the UK's second-largest - is run by National Grid and can now accommodate some of the world's largest gas tankers.