Miner statue rededicated at Kent's Fowlmead Country Park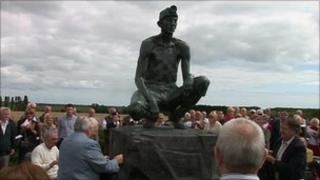 A statue commemorating men who worked and died in the mines of east Kent has been rededicated after being moved from Dover seafront.
The Waiting Miner was relocated in Fowlmead Country Park, the former site of Betteshanger Colliery, last summer.
On Saturday scores of people attended a service and laid wreaths at the base of the statue which now carries the names of miners killed in accidents.
Ex-miners campaigned to get the statue moved into the Kent coalfield.
The names of the miners killed in accidents have also recently been added to the statue's plinth.
'Come and remember'
The sculpture was commissioned by the Central Electricity Generating Board and originally located outside Richborough power station.
When the power plant was decommissioned it was moved to Dover seafront.
Ex-miners and their families have campaigned over the past few years to get the monument moved to a place they felt better reflected the county's mining heritage.
Gary Cox, who led the campaign, said: "For many years it was on Dover seafront and it had no purpose whatsoever, nobody knew why it was there.
"To move it to somewhere where it would benefit the Kent miner was the important factor but it was also to give our community somewhere to come and remember their loved ones."
Its new location in Fowlmead Country Park's also contains a visitors centre detailing the history of Kent's coal mines.