Victorian cathedral model collection opens in Margate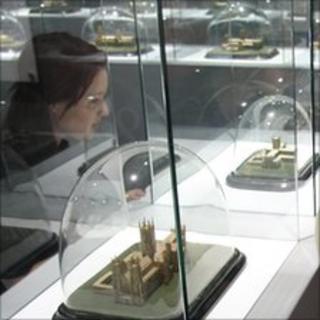 A unique collection of historic cathedral models have been displayed in Margate for the first time in 30 years.
The 27 Victorian scale models of English and European cathedrals were given to Canterbury Cathedral in 1916 by Mr Edward Murray Oakeley.
His brother, Sir Herbert, an organist and composer for the royal family, commissioned the models from an Oxford model maker in the late 1840s or 1850s.
The wood and card models, recreate the cathedrals at a scale of 60ft to 1in.
As well as recreations of English cathedrals such as Canterbury, York, Lincoln, Exeter, Salisbury, St Paul's and Westminster Abbey, the series also includes European cathedrals such as Strasbourg and St Peter's Basilica in Rome.
The models were intended to be used by students of architecture.
First public display
The exhibition is displayed in the Hornby Visitor Centre in Margate and is the result of a partnership between Hornby Hobbies Ltd, and The Canterbury Gift, the charity that raises money towards the conservation of Canterbury Cathedral.
The Very Rev Dr Robert Willis, Dean of Canterbury Cathedral said: "We are delighted that, with the support of Hornby, this unique collection is to be conserved, and go on public display in Kent.
"I hope many people will go to Margate and enjoy them for the first time in almost half a century."
The models will be on display at The Hornby Visitor Centre in Margate until the summer of 2012.