Scenic Railway hope in plans row on Margate site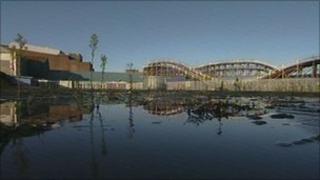 People against a development in a Kent town are hoping the upgrading of a historic rollercoaster's listed status will mean the plans are reconsidered.
Developers want to create a superstore, hotel, bars and offices as well as renovating Arlington House in Margate.
The plans were passed by Thanet District Council in June and are now subject to planning agreement.
But campaigners hope a status upgrading of the Scenic Railway means the council is forced to re-examine the proposals.
'Heritage asset'
The plans are for a 7,565 square metre 24-hour Tesco store with parking spaces and a 60-room hotel at the base of Arlington House.
Existing shops would be demolished and replaced with a hotel, shops, offices, cafes, restaurants or bars.
The Arlington House residents' association says the plans will cause traffic chaos on Margate's seafront and they are upset that they will lose their dedicated car park.
The Scenic Railway is the UK's oldest rollercoaster and was built in 1920 at the Dreamland site adjacent to the proposed development.
In July, English Heritage upgraded its listed status from grade II to grade II*.
Lisa Foster, a lawyer for some of those objecting to the scheme, said the council needed to reconsider allowing the plans in light of the status upgrade.
She said: "Obviously the development plans do not touch the railway itself but there is a national policy and in fact there is statutory requirement to look at the impact of any development on the setting of a heritage asset."
In a statement, Thanet Council said: "The council is now considering its response and will respond directly to the lawyer."
Stephen Byfield spokesperson for the developers Freshwater, said: "Whatever the merits of the arguments of this planning technicality the basic fact remains that the Arlington House scheme will be good for Margate
"It brings jobs and investment to the town and it is the only way in the foreseeable future that the Arlington House and the area around it will be regenerated."