Kent amnesia man 'may be called Frank'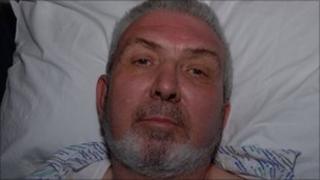 A man who woke up on a beach in Kent apparently suffering from amnesia has told officers he believes his name is Frank.
The man walked into the Victoria Hospital, Deal, on 18 August, complaining of head pains.
He has told Kent Police he cannot recall any personal details.
"The only think he's been able to tell us so far is that when asked his name he feels he wants to be known as Frank," said Det Sgt Shaun Creed.
Mr Creed added: "We've approached all the police forces in the UK and checked him against any outstanding missing persons.
"We've also checked with other agencies to confirm that nobody locally knows who he is and, as yet, we've had no suggestion that anybody does recognise him."
The man was wearing black jeans, a white T-shirt and beige walking boots, and had sunglasses and a walking stick.
He has told police he woke up on the beach at Deal and asked for directions to the hospital.