Fewer patients with C. difficile in Maidstone NHS trust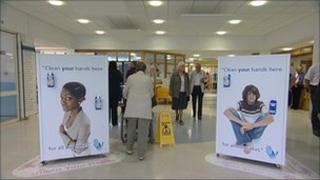 A Kent NHS trust which was at the centre of a clostridium difficile outbreak has reported steady progress in its efforts to tackle the superbug.
Maidstone and Tunbridge Wells Trust said 67 patients tested positive for the superbug in 2010-11, a drop of four from 2009-10 - and 153 down on 2007-8.
At least 90 patients died at Maidstone Hospital between 2004 and 2006.
The outbreak was caused by a "litany" of errors in infection control, said a report by the Healthcare Commission.
'Common sense'
Dr Sarah Mumford, director of infection control at Maidstone Hospital, said: "It's basically common sense, it's keeping everything clean, it's remembering to wash your hands, it's remembering not to do anything to put the patients at risk."
Florence Fields died of clostridium difficile (C. diff) at Maidstone Hospital in 2005.
Her son-in-law Tony Charlton said: "I'm very pleased and satisfied that things are going in the right direction... we have to keep up the education process."
Last year, Rose Gibb, the former boss of the trust, won her legal battle over her severance pay and was awarded more than £190,000.
She left her job days before the Healthcare Commission report into the C. diff outbreak at Maidstone Hospital was released in October 2007.
The study concluded that C. diff - a bacterial infection of the gut which mainly affects the elderly - was definitely or probably the main cause of death for 90 patients.
It was definitely a contributing factor in the deaths of a further 124, and a probable factor in another 55, said the report.