Record vandalism damage to Thanet's seaside resorts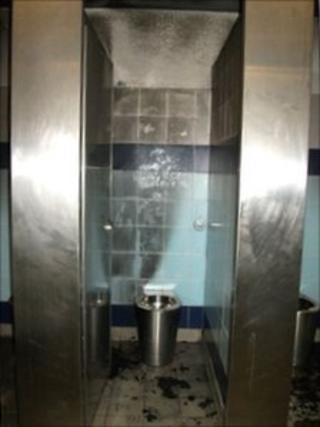 A record amount of damage has been caused to public facilities across Thanet in Kent this summer.
Vandals caused £3,833 worth of damage between April and August, according to Thanet District Council.
The council said this compared to £692 of damage by vandalism between April and December 2010.
This summer public toilets, beach huts and the lift at Broadstairs' Viking Bay have been deliberately damaged.
At West Bay, between Birchington and Westgate-on-Sea, the facilities are being repaired after being set on fire three times this year.
Christine Constable, public toilet cleaning manager, said: "We're going to have to replace all of the soap and tissue dispensers, totally scrub down everything and then the ceiling and the walls are going to have to be sealed and painted.
"All the electrical has to be checked out, after the last fire we had to replace all the lighting."
West Bay Cafe owner, Alan Dolan, said: "Every time it happens it affects me and it affects the facilities for everybody else around the area.
"We've got another toilet here but it's not got the capacity to take what's on the beach."
Public toilets at Minnis Bay, Margate and Broadstairs have also been targeted by vandals, as well as beach huts at Westbrook Bay.
The lift at Viking Bay was closed for two weeks after misuse led to breakdowns and serious damage to the lift doors.
Simon Moores, from Thanet District Council, said: "This is the worst season we've ever had for mindless vandalism of our public toilets. The inconvenience to our tourist trade is quite significant.
"I'd urge everyone who uses the beaches to keep an eye out for any unusual behaviour and, if you see anything, to contact the police or the council."