Howler monkey born at Port Lympne Wild Animal Park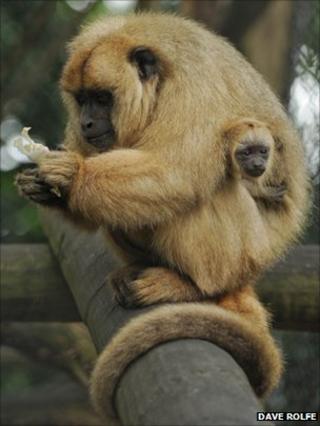 A gold howler monkey has been born at Port Lympne Wild Animal Park near Ashford in Kent.
Howler monkeys, whose native habitat is tropical rainforest in southern Brazil, Paraguay and Argentina, are at risk from deforestation and hunting.
The new arrival was born to parents Zola and Snipe and joins their family of nine.
The park has over 20 black and gold howler monkeys, which are named after the noises they make to communicate.
Target for hunters
Simon Jeffrey, head primate keeper, said: "The baby is too young to tell what sex it is at the moment and this makes it difficult to name, although we have some ideas already.
"When howler babies are young they cling to their mothers bellies for about six months, where they are protected and can easily feed."
Howler monkeys conserve energy by resting a lot of the time and their movements are slow and deliberate.
In the wild this makes them easy targets for hunters.
The Aspinall Foundation, which runs Port Lympne Wild Animal Parks, works to protect and breed threatened species with a view to returning them to the wild wherever possible.