Call for Lydd Airport expansion inquiry to be extended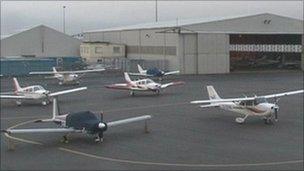 Campaigners opposed to the expansion of Lydd Airport have called for a public inquiry into the proposal, which ends in two weeks, to be extended.
The airport in Kent wants to lengthen its runway and build a new terminal to provide an international service.
The new runway would be within a third of a mile of Greatstone Primary School.
The airport owners have outlined measures to reduce the impact of noise at the school, but campaigners argue the inquiry needs more evidence.
Shepway District Council gave permission for the construction of a runway extension of almost 300m (328yds) and a new terminal. But the government ruled there should be a public inquiry.
Protect Kent has said the sound of increased planes taking off and landing if Lydd Airport is expanded could damage pupils' ability to learn.
'Negligible significance'
It also argues that the future of children at Greatstone Primary School, which has in excess of 360 primary age and 50 nursery age children, should not be jeopardised by the extension of the runway and "the potential increase in large passenger aircraft".
The public inquiry is due to end on 16 September but the school and Protect Kent have said the report from the airport's owners is not detailed enough.
Lydd airport maintains that extensive tests show that noise levels at the school would be of "negligible significance".
It commissioned an external report which suggested extensive insulation, permanently closed windows and a new ventilation system, with all the measures being paid for by the airport.
Chairman of Protect Kent, Richard Knox-Johnston, said although he thought the cost could become "an important factor" in the expansion of the airport, it was equally important to ensure the children's education did not suffer.
The school and Protect Kent have also said outdoor activities at the school would be affected and the report's findings needed more detail as the cost of the works had not been calculated.
They fear if the inspector gives the go-ahead to the expansion the school could be insufficiently protected, and they want the inquiry extended so a fully costed report can be drawn up.
Related Internet Links
The BBC is not responsible for the content of external sites.