Anniversary of Mick Jagger and Keith Richards Dartford meeting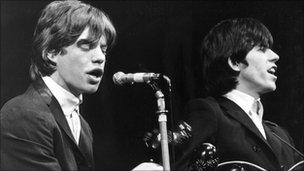 Fifty years ago Sir Mick Jagger and Keith Richards had their first proper meeting at a Kent train station - an encounter which would change the direction of pop music.
On the morning of 17 October 1961, Mick Jagger, then 18, arrived on platform two of Dartford Station to travel to the London School of Economics where he was studying.
Shortly afterwards, 17-year-old Keith Richards arrived on the same platform.
He was on his way to Sidcup Art College, carrying his hollow-bodied Höfner cutaway electric guitar.
Mike Still, assistant manager of Dartford Museum, has researched the famous encounter.
He said Jagger was holding some of his prized blues records and the two teenagers recognised each other as they had both attended Wentworth Primary School in the town.
A conversation about music began which continued on the train and led to Richards joining the group Jagger fronted called Little Boy Blue and the Blue Boys.
The group broke up when Jagger and Richards met Brian Jones and Ian Stewart, eventually forming The Rolling Stones in 1962.
That meeting at Dartford train station is believed to be one of the most important moments in the foundation of The Rolling Stones and certainly the most important in the songwriting partnership of Jagger and Richards.
Together they went on to produce songs such as Brown Sugar, Honky Tonk Women and (I Can't Get No) Satisfaction.
Mr Still said Stones fans come to Dartford to re-visit the famous meeting and trace the roots of the Stones.
"People do visit Dartford purely for the connection, I know that for a fact," he said. "People come into the museum asking about that."
Both Jagger and Richards have strong Dartford connections which Mr Still has looked into.
Mick Jagger lived with his family in Denver Road near Wentworth Primary School in Dartford and later his family moved to Wilmington.
As a baby, Keith Richards lived in Morland Avenue in Dartford.
Mr Still said: "Unfortunately a V1 flying bomb hit part of the road and their house was rendered unsafe. So they moved further up the road to where his aunt lived.
"After the war they got a flat in Chastilian Road above some shops there and later on they moved to Temple Hill council estate."
Mick Jagger still visits his home town and his old school, Dartford Grammar School, which is also home to the Mick Jagger Centre music venue.
Nicola Bowden, manager of the centre, said: "Mick Jagger made a surprise visit to the Mick Jagger Centre recently - he brought his son to show him round Dartford Grammar school and the centre. He was also at the centre for the 10th anniversary last year."
Ms Bowden believes his roots are important to him. "He still has a strong connection with his family in the area and he clearly remembers and has lots of memories there," she said. "On his last visit he drove around his favourite spots - he loves coming back to Dartford, definitely."
Jagger also funds music bursaries for local school children through the Red Rooster project.
"We currently have about 400 primary school students who are learning to play instruments purely through his funding," Ms Bowden said. "Hopefully it will be the next Mick Jagger who he has helped on their way."
Many residents know about the historic station meeting and some believe the place and date should be permanently marked.
Sculptor Anthony Hawken is hoping to raise enough money to build a statue of Sir Mick and Keith Richards to be placed at Dartford train station.
The sculptures would show how the pair looked at the time of the first meeting at Dartford railway station in 1961.
The idea was suggested to Mr Hawken by a friend who had been to Liverpool and seen the statues of The Beatles there.
"As The Rolling Stones are just as big and just as global and are still going, we feel they should have something down here," said Mr Hawken.
Related Internet Links
The BBC is not responsible for the content of external sites.