Zimbabwean Lydia Werrit granted three more years in UK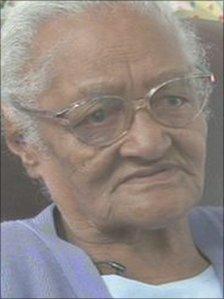 An 88-year-old Zimbabwean woman living in Kent who was facing deportation has won a three-year reprieve.
Lydia Werrit has been living in Hythe with her family since supporters of Robert Mugabe seized her farm in 2003.
A UK Border Agency spokesperson said: "Given the special circumstances, we have decided to grant three years' discretionary leave to remain."
Ms Werrit's daughter Sophie Laubscher had said she feared her mother would not survive the flight to Zimbabwe.
She added if her mother did return, she would be questioned by the Mugabe regime as to why she had been out of the country for so long and what she had been doing.
Ms Werrit had been told by the UK Border Agency she had no basis to remain in the UK and must leave immediately or face removal with force.
On Monday, Ms Werrit received a letter from the UK Border Agency giving her permission to stay in Britain for the next three years. After that time, she can apply to stay in the UK on a permanent basis.
Ms Werrit attends the Age UK centre in Hythe twice a week, where a campaign against her deportation was mounted.
Jacqui Mupratt from the centre said: "Her husband had fought alongside our men in the war, he was very brave and she classes herself as a UK resident.
"She doesn't claim a state pension, the family look after her financially."
Ms Werrit said: "I want you all to know how grateful myself and my family are for the way you all supported and stood by me. I wish to thank you all from the bottom of my heart."
The UK stopped deporting people to Zimbabwe in 2006, because of the escalating political violence there. But removals by the UK Border Agency resumed earlier this year.
Related Internet Links
The BBC is not responsible for the content of external sites.