Fireworks footballer Mario Balotelli is Edenbridge guy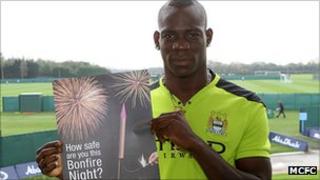 A footballer who hit the headlines after an explosive set light to his house has been unveiled as a Kent bonfire society's celebrity guy.
Edenbridge Bonfire Society unveiled a 40ft effigy of Manchester City striker Mario Balotelli which will be set alight during this year's fireworks.
Firefighters were called to the footballer's Cheshire home after an explosive set alight his bathroom.
The footballer has since urged everybody to follow the fireworks code.
After the incident, police said it was an accident and no action would be taken.
The footballer said a friend of his set off a firework in his house.
'Unanimous vote'
Balotelli has been involved in various controversial incidents since joining City in August 2010.
In March, City officials launched an investigation after Balotelli threw a dart towards a youth team player at the club's Carrington training ground.
He has also reportedly picked up thousands of pounds in parking fines since his arrival in Manchester, and his attitude has been called into question by manager Roberto Mancini.
Jon Mitchell, from Edenbridge Bonfire Society, said: "We were all quite worried a few days ago because no celebrities had done anything quite silly enough to be celebrated on 5 November.
"We thought about the politicians and the other usual suspects - but Super Mario earned a unanimous vote among the committee."
'Bonfire season'
He said the footballer's firework incident was "really silly" but the bonfire society was delighted he had promoted a fireworks safety campaign.
Mr Mitchell said: "For that reason we are fairly sure he will see the funny side and understand that we are right behind him in his campaign."
He said the bonfire society also wanted to add "a little Premier League balance" after burning Manchester United striker Wayne Rooney last year.
"Now we will probably have upset the whole of Manchester, not just the United fans," he added.
Guys in recent years have also included Katie Price, Jonathan Ross and Cherie Blair.
Edenbridge Bonfire Society is one of dozens of bonfire societies across the South East, mainly in Sussex - Lewes Bonfire Council lists Edenbridge in Kent as "an honorary member".
The societies are thought to have grown out of the "cult of the Sussex martyrs" which started in the 19th Century, but bonfire events are now used to collect money for local charities.
Each society stages an event during a 10-week "bonfire season", held every year during October and November.