Dartford Tesco and 200 flats plan approved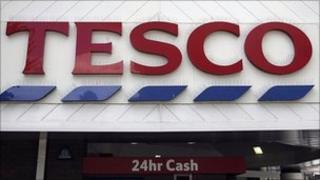 A revised plan to build a supermarket with other retail outlets, restaurants and more than 200 flats in a Kent town has been approved.
The £80m development for Lowfield Street, Dartford, that includes a Tesco, was unanimously backed by the council planners on Thursday.
It is the third scheme put forward to regenerate the area, since 2001, which has many boarded-up properties.
A previous Tesco scheme was rejected following a public inquiry in 2005.
Tesco said it had listened to residents' concerns and returned with a smaller scheme which would still create up to 400 jobs.
Renew 'vibrancy'
However, Ray Richardson, a butcher, said the development would mean the end of his shop, which had been in Lowfield Road for more than a century.
"They basically came up with either you vote yes to this or you end up with a derelict crime-ridden area," he said.
"They were up against a wall. It was the usual Tesco gun against the head."
But Bob Heasman, chairman of business group Dartford Town Centre Partnership, welcomed the scheme.
"Dartford needs that size of investment to bring it back to the economic vibrancy it once held," he said.
"It will rejuvenate the town and allow the existing businesses to respond to the increased footfall so that they can thrive and grow."
The redevelopment of the site, which includes provision of 771 parking spaces, will involve the demolition of the majority of the existing buildings in Lowfield Street.
Glentworth Ex-Servicemen's Club will also be demolished but planning permission has already been granted for a new facility nearby.