Peel Group puts forward Chatham Dockyard plans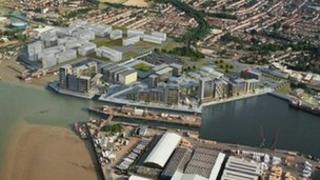 Up to 3,500 jobs could be created under a £650m plan to build hundreds of homes on a part of Chatham Dockyard in Kent, a developer has claimed.
The Peel Group has put forward a proposal to build homes, shops and offices on a Brownfield site near the River Medway.
Plans for the 26-acre site also include a hotel and education facilities.
Professor Richard Scase, of the University of Kent, said the proposal was exciting but urged caution.
He said more details were needed on the type of jobs the development would create.
"Are we talking about part-time, minimum wage jobs or are we talking about high-paid technology jobs that lead to big spend in the region and contribute to regeneration?
"One can have plans for hotels and shopping centres but... the market dictates who are going to be the occupants.
"Is there sufficient provision for infrastructure to attract the businesses that will kickstart this whole plan?"
The Peel Group is the developer behind the MediaCity complex at Salford Quays.
Development director James Whittaker said it was in "very detailed discussions" with potential tenants for the hotel and retail space including Asda.
He said: "We own a 100-acre site at Chatham docks and over the last 10 years about 50 acres of that have not been utilised.
"We felt it was important to help with the regeneration of the Medway towns by incorporating a mixed use scheme that will help with jobs in the area."
Work on the scheme - known as Chatham Waters - could start in 2013 if Medway Council grants planning permission.
Mark Reckless, the Conservative MP for Rochester and Strood, said it appeared to be "really good news" but more details were needed.