Kent policing frontline 'just moved around'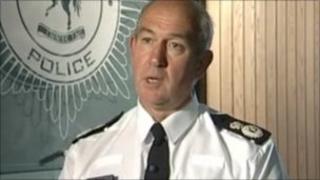 Creating more neighbourhood officers to protect frontline policing in Kent from £53m budget cuts has been criticised as a "smoke and mirrors" exercise.
Kent Police said a reorganisation which came into force last week put more than 550 officers into neighbourhood teams.
"We have looked at all our staff and made sure we put them where we think we will get the best return," said Chief Constable Ian Learmonth.
But Kent Police Federation said the frontline had just been moved around.
Chairman Ian Pointon said it was "smoke and mirrors".
"This has taken people from one frontline post and put them into another," he said.
"People who do undercover work, surveillance work, people who deal with domestic violence and people who monitor sex offenders are all on the frontline of policing.
"The public needs to know the truth and the truth is you only get one thing for less and that is less."
Cuts on target
Kent Police said in July 2010 it would need to reduce its headcount by 500 police officers and 1,000 civilian support staff to make 20% savings - £53m - over four years.
Last month Mr Learmonth said the cuts were on target and 191 police officer posts and 301 staff posts had been lost so far.
Neighbourhood officers are assigned to communities within the 13 Kent Police districts. Duties include walking the beat and gathering information from local people.
The reorganisation has increased neighbourhood officers from 43 sergeants to 125, and 193 constables to 677.
For example, Det Sgt Deborah Summersett has transferred from the training college to Gravesham neighbourhood team and Insp Jason Wedlock, who was the staff officer for the assistant chief constable, is now leading the Folkestone neighbourhood team.
"We have reorganised the force to put the emphasis where the public tell me there is greater need," said Mr Learmonth.
"That means using the police officers we have got in a different way.
"We have actually reduced the number of officers who go the the immediate calls but we have changed the way neighbourhoods work.
"They now carry a far heavier workload - they will deal with incidents from cradle to grave."