New road safety markings on M2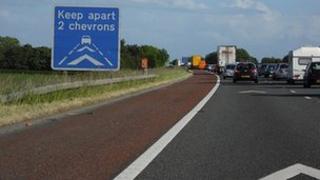 Work has begun to put new road markings on a stretch of one of Kent's motorways in a bid to improve safety.
Chevron markings will be put on the M2 coastbound carriageway between junction five near Sittingbourne and junction six at Faversham.
The Highways Agency said the new markings would remind drivers to keep their distance and have been used on other roads since the 1990s.
The work on the M2 is expected to take about three weeks.
Accident rates have been reduced by up to 56% at some locations where chevrons have been used, according to the Highways Agency.
Robert MacKenzie, from the agency, said: "We are concerned at the number of accidents on this section of the M2 caused by people following too close to other vehicles.
"These signs will encourage people to leave enough space, and help them judge the appropriate distance to keep."
The work to install the signs will be carried out until Friday with temporary hard shoulder closures.
From 5 December the new road markings will be painted onto the carriage way between 22:00 GMT and 06:00 each night with a 50mph speed limit.
"All restrictions will be removed outside these working hours," said the Highways Agency.