Margate Dreamland gets £3m lottery funding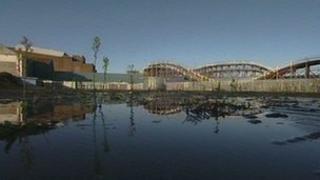 An amusement park of historic rides is on course to open at Margate's Dreamland site in 2013 after being granted £3m lottery cash.
The Heritage Lottery Fund (HLF) grant is the final piece of a funding jigsaw needed to reopen the attraction as part of the Kent town's regeneration.
The Department for Culture Media and Sport has already pledged £3.7m, with Thanet District Council giving £4m.
It is estimated the amusement park could attract 350,000 visitors a year.
The council has applied for a compulsory purchase order to buy the site from landowner Margate Town Centre Regeneration Company. A public inquiry will start on 10 January 2012.
Vintage rides salvaged from Blackpool and Southport have been bought for the seafront amusement park, which will be centred on the Grade II* listed Scenic Railway.
'Huge potential'
The park, believed to be the first of its kind in the world, will be run by the Dreamland Trust, which will be given the site by the council for a peppercorn rent.
"This project has huge potential to entertain, intrigue, and delight," said Stuart McLeod, head of the HLF for the South East.
"As Margate's answer to an early Disneyland, the fund is delighted to award this substantial investment to Dreamland, and, once restored to its former glory, it will not only bring alive the historic rides of yesteryear but boost tourism too."
The funding now in place will pay for the first phase of the Dreamland project.
The restoration of the cinema building will form a second phase, for which funding has yet to be obtained.
"Dreamland is a key site for Margate's regeneration and that's why the council has been working with the Dreamland Trust to bring it back into use," said council leader Bob Bayford.
"Our next job is to get the compulsory purchase order confirmed, so that Margate can be home to a world first that will attract thousands more to the town."