Three arrested over Newington cash machine ram raid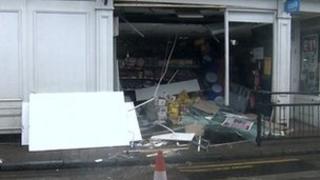 Three men have been arrested after ram-raiders tried to steal a cash machine from a supermarket in Kent.
Kent Police were called to the Co-op store in the village of Newington, near Sittingbourne, at 01:30 GMT.
The cash machine, which was later found abandoned, was taken after two 4x4 vehicles were used to smash the wall.
On Saturday, a cash machine was ripped from the wall of a bank in Snodland, three days after a similar ram raid in Ashford.
Trees felled
Both raids are being linked by Kent Police and the Kent and Essex Serious Crime Directorate are investigating any apparent links between all three raids.
A white Daihatsu Fourtrak and a white Hylux van are believed to have been involved in the Newington raid.
Both vehicles have been recovered by police.
Trees were felled at either end of Newington High Street before Tuesday's raid, blocking off access to the road.
Police believe it was done to hamper their efforts to get to the scene once the alarm was raised.
Paul Gaffney, landlord of The Bull Inn which is opposite the Co-op, said he had heard a loud crash as one of the vehicles rammed the wall.
"When I looked out I saw the four-wheel drive pulling forward, positioning itself a bit better, and taking another whack, shortly followed by several more.
"And then the guy came out, jumped inside the shop and hooked it up and off they trundled up the road with the cash machine shortly following behind," he said.
The cash machine was later found dumped in a nearby field.