Thanet wind farm gets £150m investment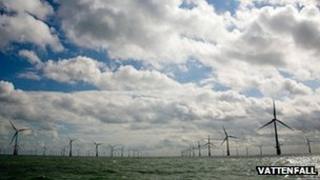 The world's largest wind farm is to get £150m funding from the European Investment Bank (EIB) to help the UK reach renewable energy targets.
The 100-turbine Thanet Offshore wind farm off Thurness Point in Kent was completed in June and covers an area of almost 14 square miles (35 sq km).
The investment is conditional on the farm passing a series of assessments including its impact on wildlife.
The bank gives long-term loans to projects meeting EU policy targets.
Simon Brooks, from the EIB, said today: "The Thanet Offshore wind farm demonstrates how offshore wind can achieve economies of scale and make a significant contribution to renewable energy supply."
There has been a mixed reaction from Richard Ashworth, MEP for South East England, who said he would lobby the EIB to provide similar investment in a new nuclear facility at Dungeness.
He said: "I welcome this investment in Kent which will help sustain jobs in the region.
"Wind can play a role in ensuring a diverse energy mix but we should also be aware of its many limitations and people's objections.
"I would still like to see the energy industry committing to a renewed nuclear facility at Dungeness."
Energy targets
The 380ft (115m) high turbines can generate enough electricity for about 200,000 homes.
The bank said the wind farm was an "important step" in the UK generating 15% of its energy from renewable sources by 2020 and would help meet renewable energy targets.
The funding goes to Vattenfall, the Swedish company which built the £780m wind farm. The company also owns the 30-turbine Kentish Flats windfarm, off Herne Bay.