Gravesend baby boy's condition 'improving'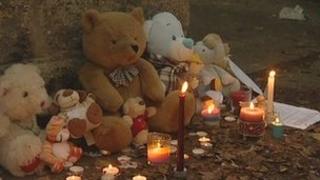 A baby boy admitted to hospital in a critical condition is continuing to improve, police in Kent have said.
A second vigil was held in Gravesend on Sunday for the month-old child. People attending took teddies, lit candles and held prayers and a minute's silence.
More than 100 people attended a vigil in the Westcourt area on Saturday.
Police appealed for calm in the town at the weekend as their investigation continued. Two people arrested on suspicion of assault have been bailed.
The man, 35, and the woman, 33, were given bail to allow officers to investigate why the baby had to go to hospital and whether any offences were committed, a police spokeswoman said on Monday.
The baby is in a London hospital, where he was transferred from Darent Valley Hospital, Dartford, after being admitted on Thursday.
Det Chief Insp Andy Pritchard said: "We shall be talking further with doctors, whose priority over the last few days has been to improve the child's condition rather than carry out further tests and procedures.
"We understand local concern but we would urge against speculation and second guessing as to what may have happened."
Police said on Sunday that some media articles had generated unhelpful rumours and increased community tension in Gravesend.
They warned against seeking retribution or taking any form of vigilante action.