Kent Community Car Service 'cannot meet demand'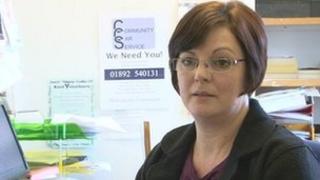 A voluntary car service for hospital patients in the South East has said it cannot meet demand after a Kent NHS trust ended its own transport scheme.
The Community Car Service, a charity in Tunbridge Wells, is facing an extra 100 trips a week and has said it urgently needs more drivers and more funding.
Maidstone and Tunbridge Wells NHS Trust cancelled its own service in October to save £420,000 a year.
An NHS spokesman said the trust was supporting other transport schemes.
£2m transport fund
Julia Cronin, manager of the Community Car Service, said: "If we are not there to pick someone up to take them to the hospital appointment, they may well decide not to go to the hospital appointment.
"That might not really matter if it's just an eye test or a blood test, but if it's chemotherapy or radiotherapy or a test to find out if you've got a real medical problem then that could be potentially life threatening."
The NHS spokesman said the trust had funded extra buses and was supporting public transport schemes with a £2m fund to improve access to the new Tunbridge Wells Hospital, which opened in Pembury this year.
He added any patients who needed help reaching hospital because of their medical condition may be entitled to use the trust's ambulance service, and financial support was available for patients in receipt of benefits.