Gillingham FC match to go ahead after policing row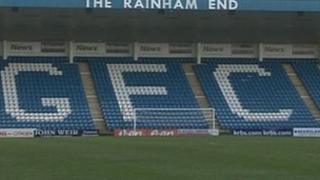 A dispute about the costs of policing Gillingham FC's stadium has been resolved after it threatened to halt the club's biggest match of the season.
Gillingham's FA Cup Third Round match with Stoke City at its Priestfield Stadium will now go ahead on Saturday.
It was facing postponement after Medway Council revealed Kent Police had said it would not police the game, making it unsafe to go ahead.
After talks it was agreed there would be a police presence at the ground.
Medway Council, which is responsible for the safety certificate for Priestfield Stadium, said: "As the licensing authority, it is our responsibility to ensure the match is safe for all fans and residents and we must rely on advice and intelligence from Kent Police on this matter."
Kent Police said the safety of fans attending the game was its "utmost priority" and since the issue of the notice, Gillingham FC had agreed to "pay a contribution towards the costs of policing".
'Good sense'
"To expect Kent Police and the tax-payer to subsidise a commercial event is not acceptable," it said.
"Commercial enterprises across the country pay for the policing of their events, including football matches, and no-one is exempt."
The matter was resolved following talks between the club and police on Friday afternoon.
Councillor Mike O'Brien said the match would go ahead "due to the good sense of all parties involved".
"Medway Council welcomes this agreement between the club and the police and are pleased that all the thousands of fans who have bought tickets will get to see this important game tomorrow afternoon," he added.