Bedgebury tree experts propogate rare Vietnam seedlings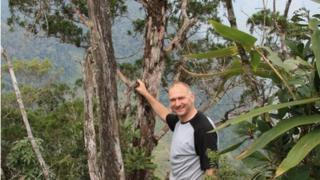 Tree experts from Kent have travelled to Vietnam and scaled mountains to examine seeds from an endangered tree species and propagate them in the UK.
Staff at the National Pinetum Bedgebury have grown seeds in trays and believe it is the first successful propagation of the Vietnamese golden cypress.
The pinetum experts have already grown golden cypresses from cuttings.
Spokesman Peter d'Aguilar said it was hoped the seedlings could be planted outside in about four years.
"Despite the much colder British climate, these specimens are doing well", he added.
The Vietnamese golden cypress was one of several species to have been seriously affected by logging, habitat loss and climate change, he said.
Chris Reynolds and Dan Luscombe travelled from Bedgebury in 2008 to work with the Bat Dai Son Nature Reserve in northern Vietnam, where they climbed the limestone karst mountains to where the remaining cypresses were growing.
At the time, there were fewer than 500 trees in the area.
A year later, tree expert Matt Parratt, who is based at the Alice Holt Forest Research Centre in Surrey, made a follow-up trip to try to establish why the cypresses were not reproducing from seed.
Experts then used X-ray equipment to identify which seeds contained embryos and the Centre for Plant Conservation in Hanoi delivered them to Kent.
The seeds were sown at Bedgebury last year and six were germinated successfully in October for the first time. In total, 18 seedlings were produced.
They will eventually be planted alongside nine other cypresses grown from cuttings that were donated by the Royal Botanic Garden Edinburgh.