Police shut '£3m cannabis factory' in east Kent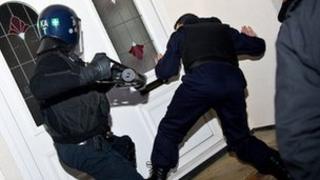 Police officers have shut down a cannabis factory which they said could have generated drugs worth an estimated £3m.
More than 70 officers took part in the operation to target the production and supply of cannabis in Kent on Monday.
Hundreds of cannabis plants were discovered at a large rural property in Hastingleigh, near Ashford.
Three men, aged 38, 48 and 35, and a 40-year-old woman have been arrested on drugs charges.
Kent Police said they found a "sophisticated" factory at the property.
Officers also seized seven vehicles including an Aston Martin DB9, worth an estimated £40,000, computers, mobile phones and about £4,000 in cash.
Properties in Thanet and Herne Bay were also raided during the police operation.
Ch Supt Mark Nottage, of Kent Police, said: "We had identified a sophisticated organised crime group working in the east of the county who were living lavish lifestyles on the proceeds of drug crime.
"These are people concerned in the production and supply of drugs, particularly cannabis, on a massive scale. The money they made was used to fuel an extravagant way of living well beyond their normal means."