Manston Airport's expansion claims questioned in report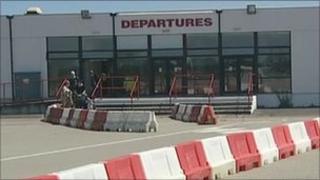 The owners of a Kent airport wanting to expand may have underestimated the impact of noise on residents, an independent report has found.
Thanet council commissioned a study before it decides whether or not to allow Manston Airport, near Ramsgate, to operate night flights.
Opponents of expansion said the report, by consultancy firm Parsons Brinckerhoff, vindicated its position.
Airport owner Infratil said expansion would bring much-needed jobs to Thanet.
The airport claims running an average of eight take-offs or landings per night could create more than 3,000 jobs.
The study found the airport's economic analysis had been "robust" but it was hard to predict to what degree it would boost the local economy in the short term.
'Wildly optimistic'
It also said: "The analysis of the noise impacts have, in our opinion, resulted in an underestimation of the potential adverse impacts."
Andrew Ogden, of the Kent branch of the Campaign to Protect Rural England, said the airport's claims about the economy had been "wildly optimistic".
He said: "These two points alone vindicate the opposition groups, whose concerns have been regarded by some as backward looking and nimbyism."
Infratil's chief executive Charles Buchannan said: "We remain confident that there is passenger growth in the market and we are going to be in a position to service that.
"It's the opportunity that we are looking for to attract airlines to the airport... and thereby create the jobs that are so needed in this area."
David Foley, chief executive of the Thanet and East Kent Chamber of Commerce, said: "The real world is not made up of the conclusions of expensive consultants. The real world is made up of investment.
"Do we want businesses to come here? Do we want jobs in the area? Or do we want more and more people watching daytime television on welfare benefits?"