RSPCA rescues pilgrim geese after Sevenoaks oil spill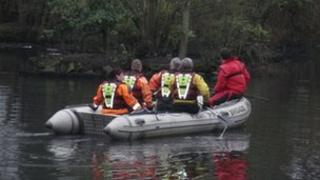 Four oil-covered geese have been rescued from a lake after a spillage was reported in Kent.
RSPCA officers and Kent firefighters were called to help the pilgrim geese, which were taken to a centre where they are being cleaned.
The spillage followed an incident at Bradbourne Lakes in Sevenoaks where oil thought to have been dumped in a ditch seeped into the water, the RSPCA said.
Anyone who sees any oily birds in the area is urged to contact the charity.
An RSPCA spokeswoman said the birds would be cleaned gently over several days to avoid them suffering shock.
They will then have their body weight checked and eventually be taken back to the lake in Betenson Avenue.
The Environment Agency said it was investigating the spillage and any possible sources.
Oil was seen on the surface of some of the smaller lakes on the south side of the A25, and action was taken to control its spread, Environment Agency officer Matthew Higginson said.
He said: "We checked the site and saw that several birds had oil marks on their bodies.
"There was a film of oil on the surface of the water, but we didn't see any sign of distressed or dying fish."