Apology after Darent Valley Hospital fails to spot stroke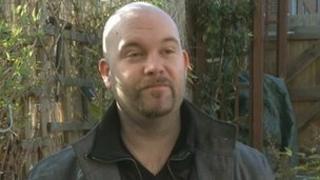 A Kent hospital has apologised to a man who suffered a stroke and was turned away without treatment following a five-hour wait in the A&E unit.
Guitarist Damien Fawsett, 37, was taken to Darent Valley Hospital last November after collapsing on stage in Maidstone.
Despite suffering from slurred speech, he was assessed in triage and left on a bed before being discharged.
The next day, his GP sent him to the Medway Maritime Hospital's stroke unit where his condition was confirmed.
'Too young'
In a statement, Darent Valley Hospital said it was "extremely sorry" the doctor did not diagnose Mr Fawsett's stroke.
"This serious incident has been referred to our patient safety committee for further investigation and to decide the appropriate course of action for the doctor."
Mr Fawsett's wife, Susan, said: "The doctor's excuse at the time was Damien's age. He's too young to have a stroke."
Mr Fawsett added: "I'm lucky that the stroke I had was quite minor.
"If I'd had a clot or a bleed on the brain, which most strokes do occur from, then I wouldn't be talking to you now."